Florence Hurricane has influenced the eastern shores of the US, along with winds of 150 kilometers per hour, heavy rainfall and floods of "catastrophic" floods. So far, five people have lost their lives in relation to the storm.
Air experts warn those living in these regions against the sudden flood risks that could lead to "cataclysm" in the North and South Carolina and Virginia states.
The hurricane, which has lost some of its strength, has been dropped to tropical storm levels, but experts say the heavy rain and storm continue to keep the region under influence.
The region is expected to rain for 8 months in 3 days. "The flood disasters in the inner regions could kill a large number of people and we are about to testify to these disasters," said Federal Emergency Management Agency President Brock Long.
The hurricane's headquarters was at Wrightville Beach in North Carolina. It is reported that many of the people in New Bern are waiting to be rescued, while the outer cores of previously reaching tornadoes cause the coastal areas to become covered with water.
More than 1 million 700 people were evacuated. According to the state's Disaster Management Center, 600,000 people in North Carolina were cut off.
North Carolina Governor Roy Cooper described the hurricane he described as an event to happen every thousand years, "continuing to influence the region for days".
According to National Weather Service Center specialist Brandon Locklear, North Carolina will normally fall in 8 months and rain in 2 or 3 days.
In the meantime, a huge riot is coming to the Philippines thousands of miles away. Authorities say 5 million people live on Super Tayfun Manghut's route.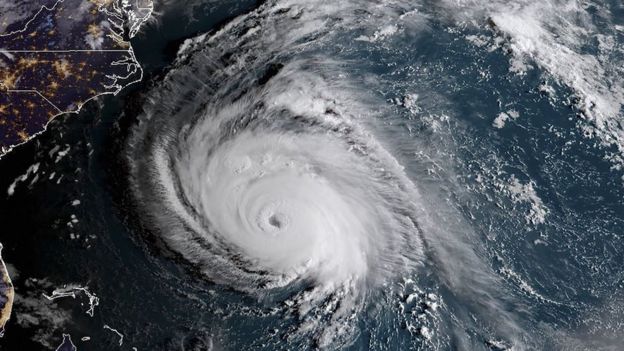 What are the dangers?
In some parts of North Carolina, in just a few hours it was 30 centimeters deep. All of the deaths are in this state.
The National Hurricane Center (NHC) explained that the wind speed is slightly down but the storm is still very dangerous due to extreme precipitation and water level predictions.
Federal Emergency Management Agency President Brock Long noted that those who live in riverside areas and at low altitudes are at risk.
According to analysis company CoreLogic, the cost of the damage to Florence could be $ 170 billion, and the business could be affected by hurricane 759,000 houses.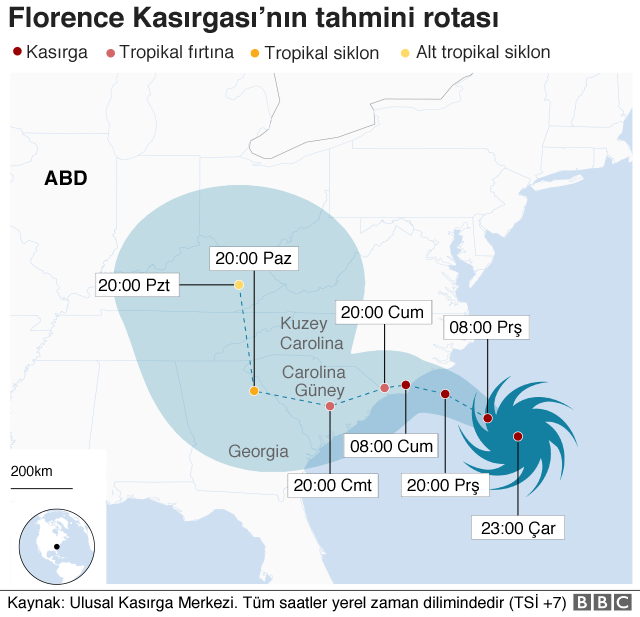 It is stated that about 10 million people can be affected by hurricane.
Finally, in the US, a state of emergency was declared in the state of Georgia in the south.
Previously, a state of emergency was declared in North and South Carolina and Virgina, Maryland and Washington, DC.
Florence, Alabama, Tennessee, Kentucky and West Virginia are expected to cause heavy rain, causing flooding.